This year the Mind Sports Olympiad are really exaggerating?!
Not only do they return to the usual London venue (21-29 August), but also remain online: the MSO Gran Prix 2022 is born, which offers a hundred tournaments between April 15 and May 29.
11 May 2022
In London I will be there for the whole period and I will try to give my best, but I only partially participate in the Grand Prix, I have left the role of captain of the Italian team to the excellent Francesco Salerno and I reserve the right to return in style in London in August, when MSO will finally return live. I have already booked travel and accommodation!
31 May 2022
Well, despite both Gueci and I were half-serve, Italy did well, as you can see from the medal table below and the good news was Marino Carpignano, with his two gold medals and 11th place in the final standings.
The Polish Maciej Brzeski also won this ranking, which was based on different criteria from those of the classic Pentamind. Certainly the absences of Ankush Khandelwal, Jordi Alexander and – partially – Andres Kuusk left the road smoothed, but he didn't notice and finished with more than double the points of the second classified, the Japanese Yuki Shibata. Science fiction!
In the tab all the Italian medals and a bit of news, so that all these deeds are not wasted "like tears in the rain".
Dario De Toffoli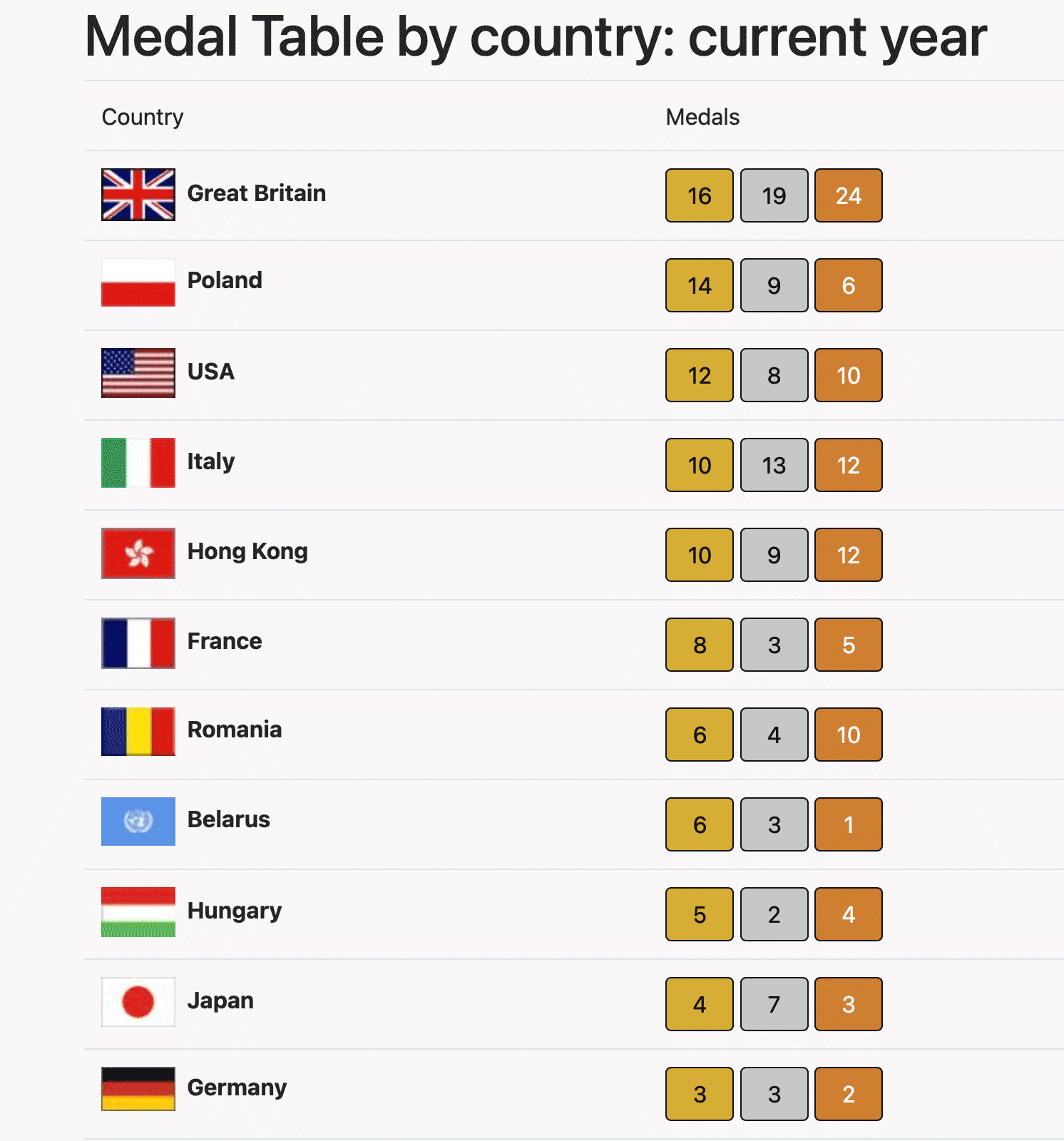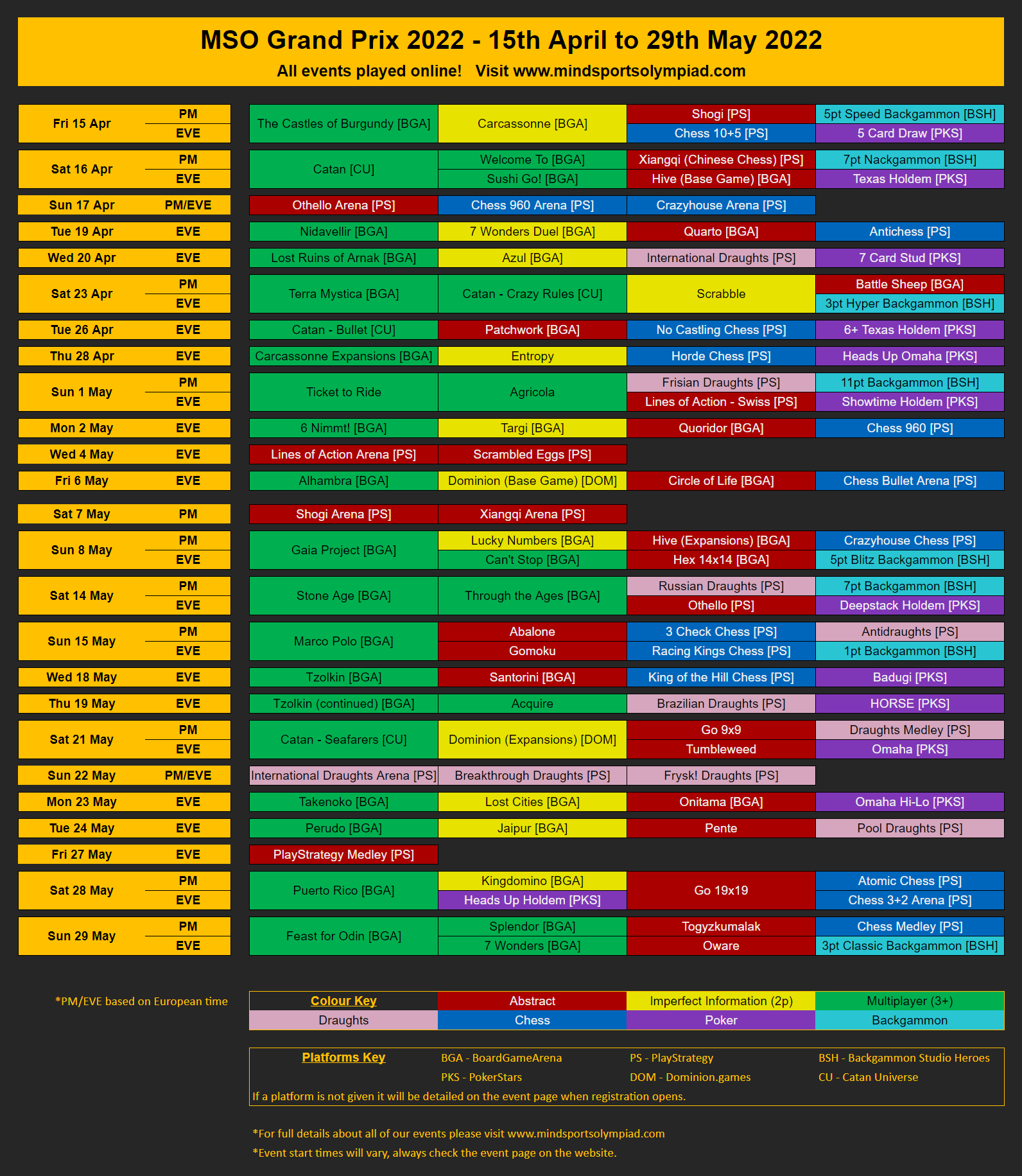 ITALIAN MEDALS
GRAND PRIX 2022
11pt Classic Backgammon
1 Florin Popa


2 Denis-George Constantin


3 Francesco Ventola

1pt Backgammon
1 Spyridon Sofos


2 Paolo Arcudi


3 Georgeta-Olga Preotesoiu

3pt Classic Backgammon
1 Florin Popa


2 Denis-George Constantin


3 Marco Conte 

5pt Blitz Backgammon
1 Zoltan Kovacs


2 Stylianos Ktistakis


3 Antonio Anelli

Can't Stop
1 Wan-Ju Tsai


2 Lydia Finn


3 Giacomo Frassoldati 

3-check Chess
1 Etan Ilfeld 


2 Alain Dekker


3 Danilo Serio

Atomic Chess (Swiss)
1 Danilo Serio 


2 Ayush Agrawal


3 Tim Hebbes

King-of-the-hill Chess
1 Alain Dekker


2 Riccardo Gueci


3 Florin Popa

No-castling Chess
1 Riccardo Gueci


2 Maciej Brzeski


3 Florin Popa

Breakthough Draughts
1 Kanstantsin Nord
2 Zas
3 Marino Carpignano

Draughts Grand Prix
1 Kanstantsin Nord
2 Mantas Janavicius


3 Marino Carpignano

Frisian Draughts
1 Marino Carpignano


2 Kanstantsin Nord
3 Maciej Brzeski

Frysk! Draughts
1 Kanstantsin Nord
2 Marino Carpignano


3 Rafayel Ordyan

International Draughts (Arena)
1 Kanstantsin Nord
2 Mantas Janavicius


3 Marino Carpignano

Feast for Odin
1 Tung Yat Cheng


2 Chuang Xin Chen


3 Alessandro Calamida

Gaia Project
1 Eugenio Dreas


2 Tung Yat Cheng


3 Jacky Ling

Go-Moku (including Pente)
1 -Alpalikirkan-


2 Marino Carpignano


3 -Mikk888-
Hive (Base Game)
1 Francesco Salerno


2 Christian Galeas


3 Patrick Berggren

Hive (Expansions)
1 Joe Schultz


2 Francesco Salerno 


3 -Stepanzo-
Lost Ruins of Arnak
1 Tung Yat Cheng


2 Stefano Marchetto


3 Yat Hin, Yorkson Cheung

Badugi Poker
1 Ricardo Araujo 


2 Pietro Rossi


3 Florin Popa

Hold'em Poker (Heads up)
1 Ben Collister


2 Piero Zama


3 Samuel Fishman


3 Jimmys Kosmopoulos

Omaha Casual
1 Francesco Ventola 


2 Parker Pulver


3 Riccardo Gueci

Omaha Poker
1 Tim Hebbes


2 Francesco Ventola 


3 Ricardo Araujo 

Omaha Poker (Heads Up)
1 Dario De Toffoli


2 Chasse Rehwinkel


3 Samuel Fishman


3 Tim Hebbes

Poker Grand Prix
1 Ben Collister


2 Dario De Toffoli


3 Samuel Fishman

Showtime Hold'em Poker
1 Manfredi Barbaro


2 Jimmys Kosmopoulos


3 Hugo Martins Pereira

Texas Hold'em Poker (Deepstacks)
1 Ben Collister


2 Stephane Melcer


3 Dario De Toffoli

Quarto
1 Marino Carpignano


2 Maciej Brzeski


3 Lucas Prieels

Santorini
1 Maciej Brzeski


2 Fabio Buccoliero


3 -Valezius-

Splendor
1 Tseng Hsin Yu


2 Stefano Teatini


3 Joe Chan

Ticket to Ride
1 Michael Cheng


2 Nicolas Wittmann


3 Stefano Teatini

Senior Grand Prix
1 Dario De Toffoli


2 Riccardo Gueci


3 Vidar Aas

CHRONICLES FROM THE BOARDS
ONLINE 15 April – 29 May 2022
Chronicle from the boards – 1 (10/5)
by Dario De Toffoli
It is April 27th and I am in a hotel in Vittorio Veneto; tomorrow morning before 7 I have to go to the hospital to get some shredded. The alarm is set for 5:30.
At 8:00 pm the Omaha heads up tournament begins in the PokeStars MSO Home Club. MSO poker tournaments usually last around 2-3 hours, so I can't help but grab my laptop and go. Surprise, instead of the fast Zoom mode (where you change opponent at each hand the blinds go up only once for all) you play shootout, that is 1 on 1 to elimination and you start with 10,000 chips for initial blinds 15/30, that is to say very "deep" competition, which can last a long time, much more technical than all the tournaments played so far. Oibò, more than 2-3 hours, whoever reaches the final here will have to play 8/10 hours. We will see. And in fact I use all my technique and pass the first round… in 2 hours. And it is 10:00 pm. The second round starts immediately, another two hours and I win that too. For the third it takes me less, I play aggressive and that's okay with me. There were 4 of us left, but it is now 1am. I write to old Mike (always present and available, applause for him) proposing to interrupt the tournament… in fact, in just over 4 hours I'll have to get up to go to the hospital. Luckily he accepts and the semifinals and finals are postponed to Saturday 7 May. But I pretended that the structure of the tournament does not change, if it was to be a very technical tournament, that it is to the end!
I was lucky? A little yes and a little no. In one of the matches, I think the second, I climbed over 15,000 chips 3 times and brought my opponent all in starting "from above" (with probability> 50%) and three times this diehard saved himself with the last card; then he went up and I went down to 3,500, I go all in with 8-9-10-Q, find A-A and close the straight, so I reassemble and then I attack him relentlessly until the victory (well, I deserved it… I think, who knows what did he think?). This is to say that no other game gives you the emotions that you experience in poker!
In seeds I find Tim Hebbes, an old acquaintance of the MSOs, we are both at 39 golds won, it is clear that the fortieth is really tempting! Roller coaster again, Tim doesn't give up, I go up and he recovers, I go up again and he recovers again. Then two unfortunate shots (or maybe, badly played?) And I drop to less than 1,800 chips, not even 10 blinds at the time. But I don't give up, I stay disciplined and he doesn't overdo it either. I fire all in again with tied center cards and again find A-A and survive by hitting pair. It is a sign, I fire the next shot and he calls a bit out of anger and loses again; we are almost even and I take advantage of my opponent's difficult psychological moment, take the lead and take him all in in a hand where I had closed and he should have folded. The final! Fiuuu! I find the American strong Chasse Rehwinkel. In the key hand, on board 3♦-7♠-J♦ I set 7 and have a diamond flush draw (7♥–7♦-8♠-K♦); I make a big bet and he follows me, on the white turn, I repeat and he raises, what can he have but J-J? But at that point, having diamonds, I have to play it, otherwise I am left with too few chips and the blinds are already high; had I not had them I would have passed, reluctantly. And on the river a magical 2♦ and I win (he really had Js!). Everything else a descent to the 40th gold! And go!
Chronicles of Half Grand Prix (aka MSO online) – (11/5)
by Francesco Salerno
2022 is a year of transition, we are slowly returning to normal (whatever that is), and the Mind Sports Olympiad are no exception.
We are still here, behind a screen playing online (perhaps for the last time?), Intrepidly waiting for the last week of August, when our hands will touch again, after two years, pieces, cards and markers, in London.
This is the MSO Grand Prix (as the online event has been renamed): 113 different tournaments available for about a month and a half on various online platforms, participants from all over the globe, each behind their own screen fighting for the medal .
While playing live is another matter entirely, there is no denying how much the internet has democratized the game and reached so many new players who probably could never have been physically in London.
The Italians are as aggressive as ever. After three weeks, about halfway through the (games) marathon, we collected 6 golds, 2 silvers and 4 bronzes, not bad!
Fortunately, our team is diversifying a bit:
• In Heads Up Omaha poker, De Toffoli earns one gold (we couldn't expect less!), And a second gold is won by Barbaro in Showtime Hold'em. In the 5 Card Draw variant, Arcudi gets an excellent 4th place.
• For chess, the master Gueci gets a gold in the variant of chess without castling and a wooden medal in the classic 10 + 5 quick chess tournament.
Curiosity: incredibly Gueci is accused of cheating! Fortunately, the accusation was soon withdrawn for manifest groundlessness, its extraneousness to the facts was proved and Gueci received a public apology from the organization. His successes on the chessboard (physical, not virtual!) Of the last few years in the Palermo school speak for themselves after all.
• But soon he will tell us more about it himself. In 11-point Backgammon, Ventola wins a bronze and in 3-point Hyper Backgammon he finishes 5th. Rings comes 4th in the latter specialty and gets a bronze in Backgammon with 5 blitz points. The new platform https://www.backgammonhub.com/ generated some initial confusion, but ours quickly adapted.
• In the Eurogames, Marchetto gets a silver in Lost Ruins of Arnak, Teatini a bronze in Ticket to Ride.
• Finally, for abstract games, Salerno gets double medal in Hive (gold in the basic game and silver in the game with expansions, which is the most complex one used in official tournaments) and Carpignano (this year's revelation!) Earns two golds: Quarto and Frisian Draughts. Rossi also obtained excellent placings just off the podium: 5th in Othello Arena, 5th in Lines of Action and 4th in Quarto (at least an aesthetically satisfying placement). In the abstract, one of the most formidable opponents is the Polish Maciej Brzeski, who is also collecting medals this year, with 3 golds, 2 silvers and 2 bronzes!
• Finally, a bronze for Frassoldati in Can't Stop.
Another three weeks of tournaments await us, cheer us on, join in too, and let's meet in London in August!
Find the complete results on the page https://mso.juliahayward.com/ and for Italians, in the sheet here:
(https://docs.google.com/spreadsheets/d/10ucJwqz2tLakjnmmhxNXvVK1qBgzsuJf_wrv09mEyGw/edit?usp=sharing)
Are you as good as our team? Solve these puzzles! (Solutions at the bottom)
Hive base (easy): Frasco – David Pearce [1]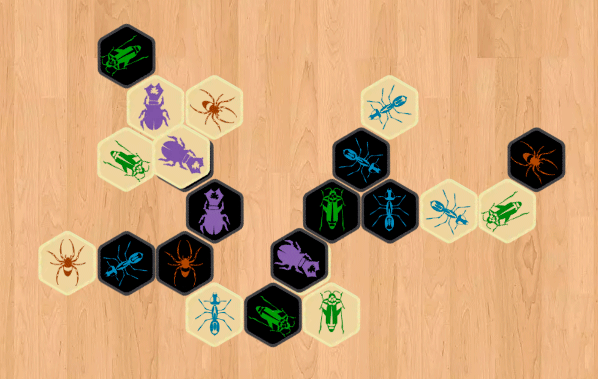 White wins in two moves (the black and white cockroaches cover the black and white queens respectively).
Chess no castling (intermediate): LunarGuardianNasus – Scapribrok (Gueci) [2]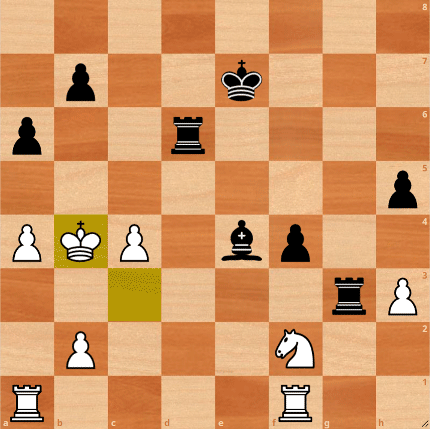 The white king is almost in a mad net. Black moves and wins in 3 moves!
_______________________________________________
[1] White moves his free ant east of the white beetle and at the next move the beetle descends occupying the last freedom of the black queen in the southwest.
[2] 1 …a5!+ 2. If Rc5 Tg5#. If 2. Rxa5 Tb3 is unstoppable to the next with…3. Ta6#.
Chronicles from the boards – 2 (1/6)
by Dario De Toffoli
As I announced, I was able to take part in this MSO Grand Prix only partially, due to the overlap with the annual and unmissable ISOP Italian Championships, Italian Series of Poker.
But I couldn't give up completely… for example in the GP I was leading the ranking in the Poker Championship and what do I do? Do I let those rude opponents of mine overtake me all? Come on… I can't!
So?
So I made a tricky thing, I played some MSO tournaments on my mobile, while I was playing more than serious ISOP live poker tournaments. Guys… it's hallucinating! Clearly the online results weren't sensational, but they were still instrumental in my final rankings. The few points scrapped in the last few poker tournaments allowed me to maintain second position in the World Amateur Poker Championship and 4th place in Lost Cities (together with 4th place in Lucky Numbers) earned me the victory in the Grand Prix in the Senior category, in front of Riccardo Gueci, who also participated only partially; third the Norwegian Vidar Aas.
So a total of two golds, one silver and one bronze, which bring the total of my historical MSO medal table to 120 (41-41-38).
However, I would say that my live poker performance was not too affected, because I actually paid more attention to live play than online.
I'll summarize how it went.
I played 12 tournaments (out of the 21 scheduled) and cashed 4 times (with consequent economic return):
– I won the FREEZEOUT, earning my 5th "bracelet", which is an absolute record in the history of the ISOP;
– third in the CRAZY PINEAPPLE, the variant where you receive 3 cards and discard one on the flop;
– fourth in 6-max, texas with max 6 players at the table, much less boring than the full ring;
– sixth in WIN THE BUTTON, where whoever wins the hand takes the button.
But above all, these results allowed me to win the PLAYER OF THE YEAR ranking in the SIDE, resulting in the award of the very interesting "Vegas package" (there were 535 players in the ranking!).
Well, better than that… I should be satisfied, right? Well, yes, but not entirely; in fact I had to make several re-buys, sometimes I went out for imperfect or imprudent plays, but others with hands where I was over, even at 90%. "That's poker", as they say, and in many ways it is a great lesson.