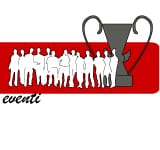 13 March 2023
The 2023 edition of the MSO (Mind Sports Olympiad) Grand Prix Online has ended, made up of over 100 tournaments over the course of almost 2 months. Personally I participated in a very occasional way and not always with due preparation and attention and so I have to settle for a Gold and a Bronze medal; but overall the Italian team – which I can proudly say I helped to give birth to – has become a true squadron that in the end finished second in the medal table.
Naturally behind Great Britain, you will think, the nation that has always dominated, as the organizing country and from which the most participants comes. But no!
At the top of the medal table we find none other than Hong Kong and Great Britain has no choice but to resign itself to third position. In other words, this was the most international edition ever, with as many as 47 nations appearing in the medal table.
Before examining our national triumphs a little better, allow me a couple of geopolitical considerations of the medal collection:
– We are talking about Great Britain and not the United Kingdom: and where is Ben Collister's Northern Irish gold? In the 5 medals (2-1-2) that result to an unnamed nation?
– It may seem strange to talk about Hong Kong – and we talk about it above all by virtue of the 47 medals they have earned, but even today, even in the sports Olympics, HK participates independently, as well as Taiwan. That's it! But if HK won the medal table, dominating not only in abstract games, but also in multi-player board games… what will China be able to do if it finally decides to participate.
– Players from Russia and Belarus participated, but the icons of the flags of the two countries are omitted from the medal table, in deference to dominant Western thinking. No comment, I dare not say more.
– No category rankings this year (Junior, Senior and Women) – we'll have to deal with it… but junior medals appear in the medal table for the two go events (5 for Great Britain and one for Turkey). Meh!
And we come to the 37 Italian medals, one more beautiful than the other, with De Leo, Gueci and Carpignano in grand style; in the pages of the site you will find them listed one by one (see link), but in the meantime I wanted to say well done to all the medalists, truly extraordinary:
– Maurizio De Leo (3-3-0)
– Riccardo Gueci (2-2-2)
– Marino Carpignano (2-2-0)
– Antonio Anelli (1-1-0)
– Francesco Salerno (1-0-2)
– Manfredi Barbaro (1-0-2)
– Fabio Buccoliero (1-0-1)
– Dario De Toffoli (1-0-1)
– Francesco Ventola (0-1-1)
– Paolo Arcudi (0-1-1)
– Marco Conte (0-1-0)
– Stefano Teatini (0-1-0)
– Pietro Rossi (0-0-3)
On a personal level, in addition to the bronze in Lost Cities (tied first with 7 out of 8… but with the Bucholz curse) I am quite satisfied with the Gold in Poker 2-7 Triple Draw; it is a variant that essentially none of the participants had ever tried, myself included… but the terrain of variants unknown to all is where I am most at ease! It may also be a coincidence, but I won this tournament. If I have to be honest, it's not that 2-7 is my favorite variant, but some reading on the opponent can be done and some strategies can be applied.
As for the Grand Prix, this year the system was really – let's say – inadequate, in fact it was only valid for a limited number of tournaments, while all the others were good for meta-rankings based on game categories. Be that as it may – but let's hope they change next year – the indestructible Pole Maciej Brzeski still prevailed, and with inflexible commitment managed to adapt to the new formula. Among the Italians the best was the old friend Paolo Arcudi (great Pablo!), finished 13th.
See you again for the live edition next August, meanwhile on the MSO website, anyone who wants to can have fun finding all the details they want.
February 22, 2023
This year they really exaggerated, I no longer have any doubts!
Over 100 tournaments online and all free. Well done.
As I write, a good half of the GP has already passed and this time I haven't had the opportunity to follow the event as it should… but I'm proud of the Italian team, which is doing very well, indeed sovramagnificentissimamente, to quote old Dante (btw, did you know that sovramagnificentissimamente has one more letter than the famous precipitevolissimevolmente?).
And I must say that the organization is now well established and everything works quite well; after a "slow" start, all the results are now online and all the rankings are constantly updated.
So good!
See you at the end of the event!
Dario De Toffoli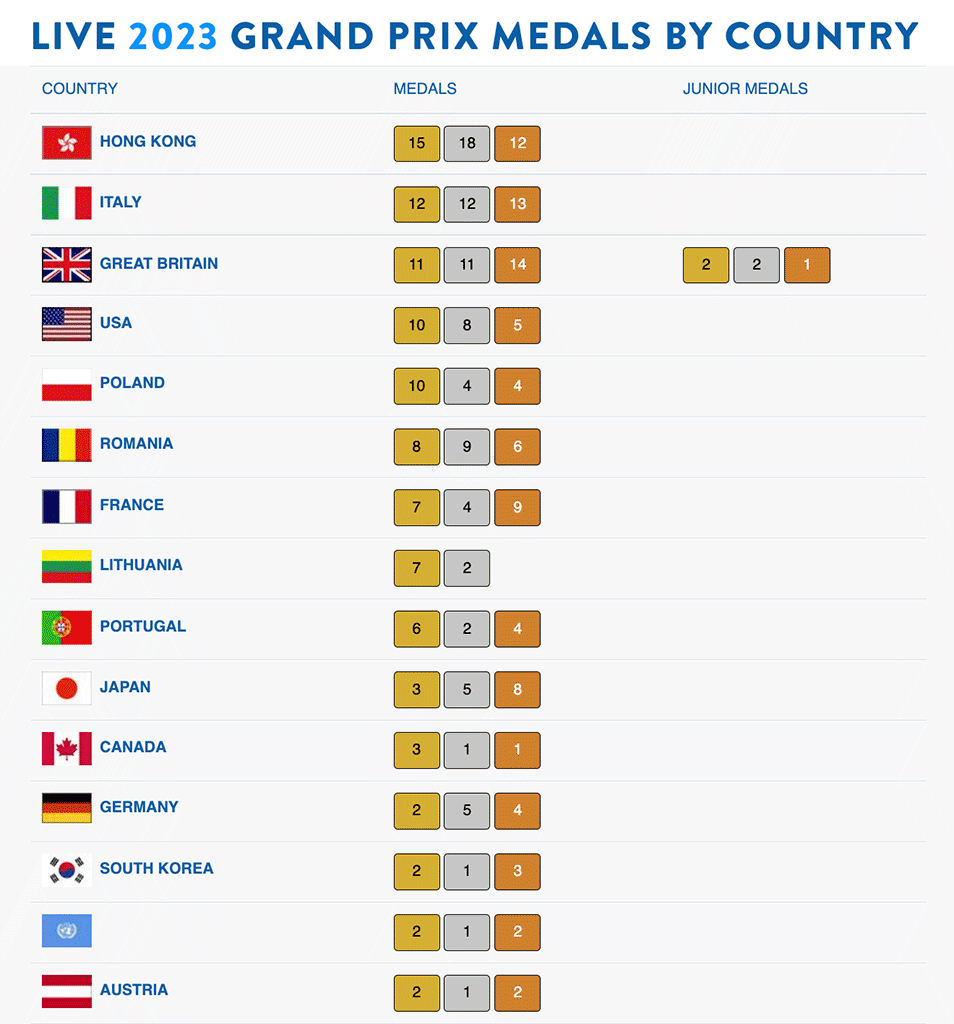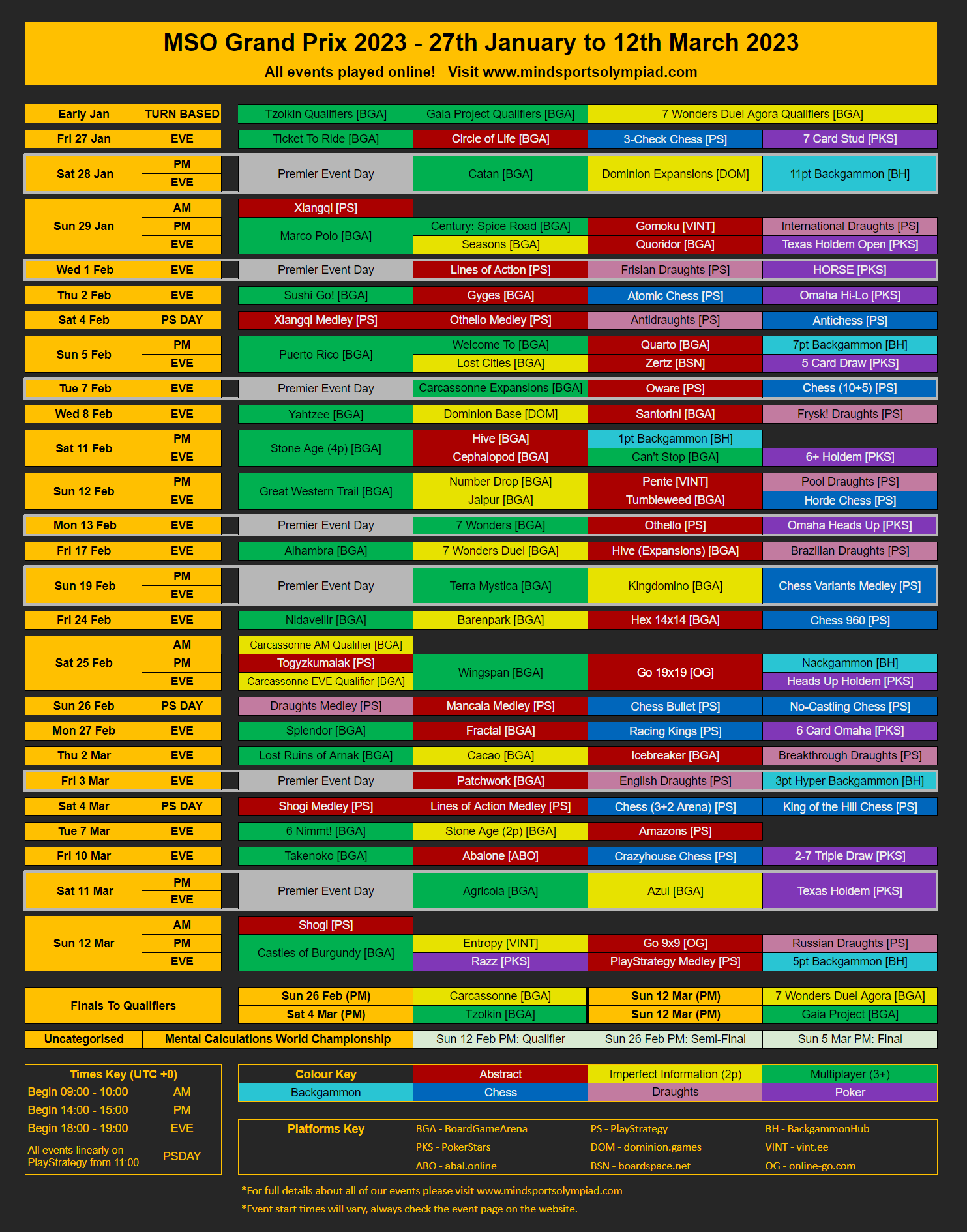 GRAND PRIX 2023
ITALIAN MEDALS
7 Wonders Duel
1 A_little_seed


2 Stefano Teatini


3 joqjoq

Amazons
1 Marino Carpignano 


2 Bernd Radmacher 


3 Florian Jamain 

Backgammon 1pt
1 Florin Popa


2 Antonio Anelli


3 Paolo Arcudi

Backgammon 7pt Nackgammon
1 Antonio Anelli


2 Denis-George Constantin 


3 Florin Popa


3 Iulian Chirita

Backgammon Premier 2
1 Sandu Toader Mihai


2 Cristian Frisk 


3 Pietro Rossi

Cephalopod
1 Maxime Guffroy


2 Maurizio De Leo


3 David Chen 

Chess 10+5 (Swiss)
1 Riccardo Gueci


2 Maciej Brzeski


3 Zoran Kuzmanoski

Chess 960
1 Florin Popa


2 Riccardo Gueci


3 Santiago Bedoya

Chess GP Championship
1 Maciej Brzeski


2 Zoran Kuzmanoski


3 Riccardo Gueci

Chess No-castling
1 Maciej Brzeski


2 Riccardo Gueci


3 Ilya Iyengar
Horde
1 Michael Moore 


2 Zoran Kuzmanoski


3 Riccardo Gueci

Circle of Life
1 Maurizio De Leo


2 Yuki Shibata


3 Stephane Melcer

Draughts Frisian
1 Marino Carpignano


2 Kanstantsin Nord
3 Andrew Cern

Draughts Frysk!
1 Mantas Janavicius


2 Marino Carpignano


3 Martyn Hamer

Draughts Medley
1 Maurizio De Leo


2 Mantas Janavicius


3 Porter Richardson

Fractal
1 Yat Hin, Yorkson Cheung 


2 Maurizio De Leo


3 Stephane Melcer 

Hive (Base Game)
1 Patrick Berggren


2 Dmitry Maximenkov
3 Francesco Salerno

Hive (Expansions)
1 Francesco Salerno 


1 Christian Galeas


3 Dmitry Maximenkov
Lines of Action Medley
1 James Heppell


2 Carman Tang


3 Francesco Salerno 

Lost Cities
1 Maksimilyano96
2 Geoffrey Press


3 Dario De Toffoli

Mancala
1 Pavel Noga


2 Maurizio De Leo


3 David Alatorre López

Number drop
1 Raphael Tse 


2 Sang Soo Yun


3 Pietro Rossi

Othello Medley
1 Daniel Olivares


2 Marc Tastet


3 Pietro Rossi

Patchwork
1 Maurizio De Leo


2 Maciej Brzeski


3 Carman Tang

Poker 2-7 Triple Draw
1 Dario De Toffoli


2 Ben Collister


3 Francesco Ventola

Poker 5 Card Draw
1 Hugo Martins Pereira


2 Marco Conte


3 Dimitrios Kosmopoulos 

Poker 6 Card Omaha
1 Florin Popa


2 Luis Pedro Santos


3 Manfredi Barbaro

Poker 6+ Hold'em
1 Manfredi Barbaro


2 Ben Collister


3 Stefan Schröder 

Poker 7 Card Stud
1 –Chillolini–


2 Khatanbaatar Khandsuren


3 Manfredi Barbaro

Poker Heads Hold'em
1 Riccardo Gueci


2 Stefan Schröder


3 Kazushi Kusano


3 Parker Pulver

Poker Razz
1 Tim Hebbes 


2 Francesco Ventola


3 Dimitrios Kosmopoulos 

Poker Premier 2
1 James Heppell


2 Paolo Arcudi


3 Tim Hebbes 


3 Michael Alishaw

Quarto
1 Yat Hin, Yorkson Cheung


2 Marino Carpignano


3 Fabio Buccoliero

Santorini
1 Fabio Buccoliero


2 Kazushi Kusano


3 Luis Pedro Santos