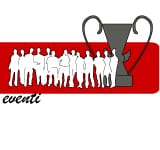 13 marzo 2023
Si è conclusa l'edizione 2023 del Grand Prix Online delle MSO (Mind Sports Olympiad), fatte di oltre 100 tornei nel corso di quasi 2 mesi. Personalmente ho partecipato in modo assai scostante e non sempre con la dovuta preparazione e attenzione e così mi devo accontentare di un Oro e un Bronzo; ma complessivamente la squadra italiana – che con molto orgoglio posso affermare di aver contribuito a far nascere – è diventata un vero squadrone che alla fine è giunto secondo nel medagliere.
Dietro naturalmente alla Gran Bretagna, penserete voi, la nazione che ha sempre dominato, come paese organizzatore e dalla quale proviene il massimo numero di partecipanti. E invece no!
In testa al medagliere troviamo nientepopodimeno che Hong Kong e alla Gran Bretagna non resta che rassegnarsi alla terza posizione. In altre parole questa è stata l'edizione più internazionale di sempre, con ben 47 nazioni che figurano nel medagliere.
Prima di esaminare un po' meglio i trionfi nostrani, permettetemi un paio di considerazioni di geopolitica del medagliere:
– Si parla di Gran Bretagna e non di United Kingdom: e l'oro del Nord-Irlandese Ben Collister dove è finito? Nelle 5 medaglie (2-1-2) che risultano a una nazione senza nome?
– Può sembrare strano parlare di Hong Kong – e ne parliamo soprattutto in virtù delle 47 medaglie che si sono guadagnati, ma a tutt'oggi anche nelle Olimpiadi degli sport, HK partecipa autonomamente, così come Taiwan. Tant'è! Ma se HK ha vinto il medagliere, dominando non solo nei giochi astratti, ma anche nei giochi di tavoliere multi-giocatore… cosa sarà capace di fare la Cina se finalmente deciderà di partecipare.
– Giocatori di Russia e Bielorussia hanno partecipato, ma nel medagliere sono omesse le icone delle bandiere dei due paesi, in ossequio al pensiero occidentale dominante. No comment, non mi azzardo a dire di più.
– Quest'anno niente classifiche di categoria (Junior, Senior e Women) – toccherà farsene una ragione… ma nel medagliere compaiono medaglie junior per i due eventi di go (5 alla Gran Bretagna e una alla Turchia). Mah!
E veniamo alle 37 medaglie italiane, una più bella dell'altra, con De Leo, Gueci e Carpignano in spolvero; nelle pagine del sito le trovate elencate una per una (vedi link), ma intanto volevo dire bravi a tutti i medaglisti, davvero straordinari:
– Maurizio De Leo (3-3-0)
– Riccardo Gueci (2-2-2)
– Marino Carpignano (2-2-0)
– Antonio Anelli (1-1-0)
– Francesco Salerno (1-0-2)
– Manfredi Barbaro (1-0-2)
– Fabio Buccoliero (1-0-1)
– Dario De Toffoli (1-0-1)
– Francesco Ventola (0-1-1)
– Paolo Arcudi (0-1-1)
– Marco Conte (0-1-0)
– Stefano Teatini (0-1-0)
– Pietro Rossi (0-0-3)
A livello personale, oltre al bronzo a Lost Cities (primo a pari merito con 7 su 8… ma con la maledizione del Bucholz) sono abbastanza soddisfatto dell'Oro nel Poker 2-7 Triple Draw; si tratta di una variante che sostanzialmente nessuno dei partecipanti aveva mai provato, me compreso… ma il terreno delle varianti sconosciute a tutti è dove io più mi trovo a mio agio! Sarà anche un caso, ma ho vinto proprio questo torneo. Se poi devo proprio dirla tutta, non è che il 2-7 sia la mia variante favorita, ma qualche lettura sull'avversario si può fare e qualche strategia si può applicare.
Per quanto riguarda il Grand Prix, quest'anno il sistema era davvero – diciamo – inadeguato, infatti valeva solo un limitato numero di tornei, mentre tutti gli altri andavano bene per delle meta-classifiche basate sulle categorie di giochi. Sia come sia – ma speriamo l'anno prossimo cambino – l'ha comunque spuntata l'inossidabile polacco Maciej Brzeski, che con inflessibile impegno è riuscito ad adattarsi alla nuova formula. Fra gli italiani il migliore è risultato il vecchio amico Paolo Arcudi (grande Pablo!), finito 13°.
Ci risentiamo per l'edizione live del prossimo agosto, intanto nel sito delle MSO, chi ha voglia può divertirsi a trovare tutti i dettagli che vuole.
February 22, 2023
This year they really exaggerated, I no longer have any doubts!
Over 100 tournaments online and all free. Well done.
As I write, a good half of the GP has already passed and this time I haven't had the opportunity to follow the event as it should… but I'm proud of the Italian team, which is doing very well, indeed sovramagnificentissimamente, to quote old Dante (btw, did you know that sovramagnificentissimamente has one more letter than the famous precipitevolissimevolmente?).
And I must say that the organization is now well established and everything works quite well; after a "slow" start, all the results are now online and all the rankings are constantly updated.
So good!
See you at the end of the event!
Dario De Toffoli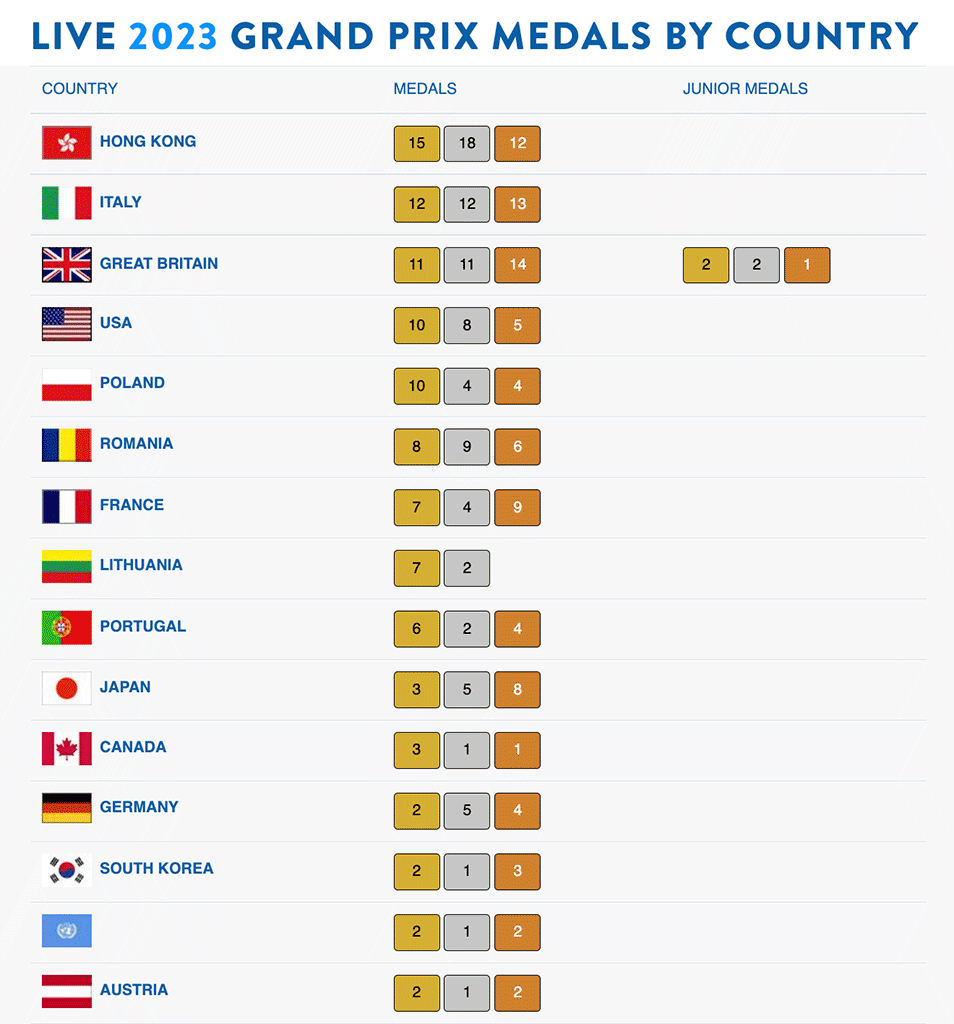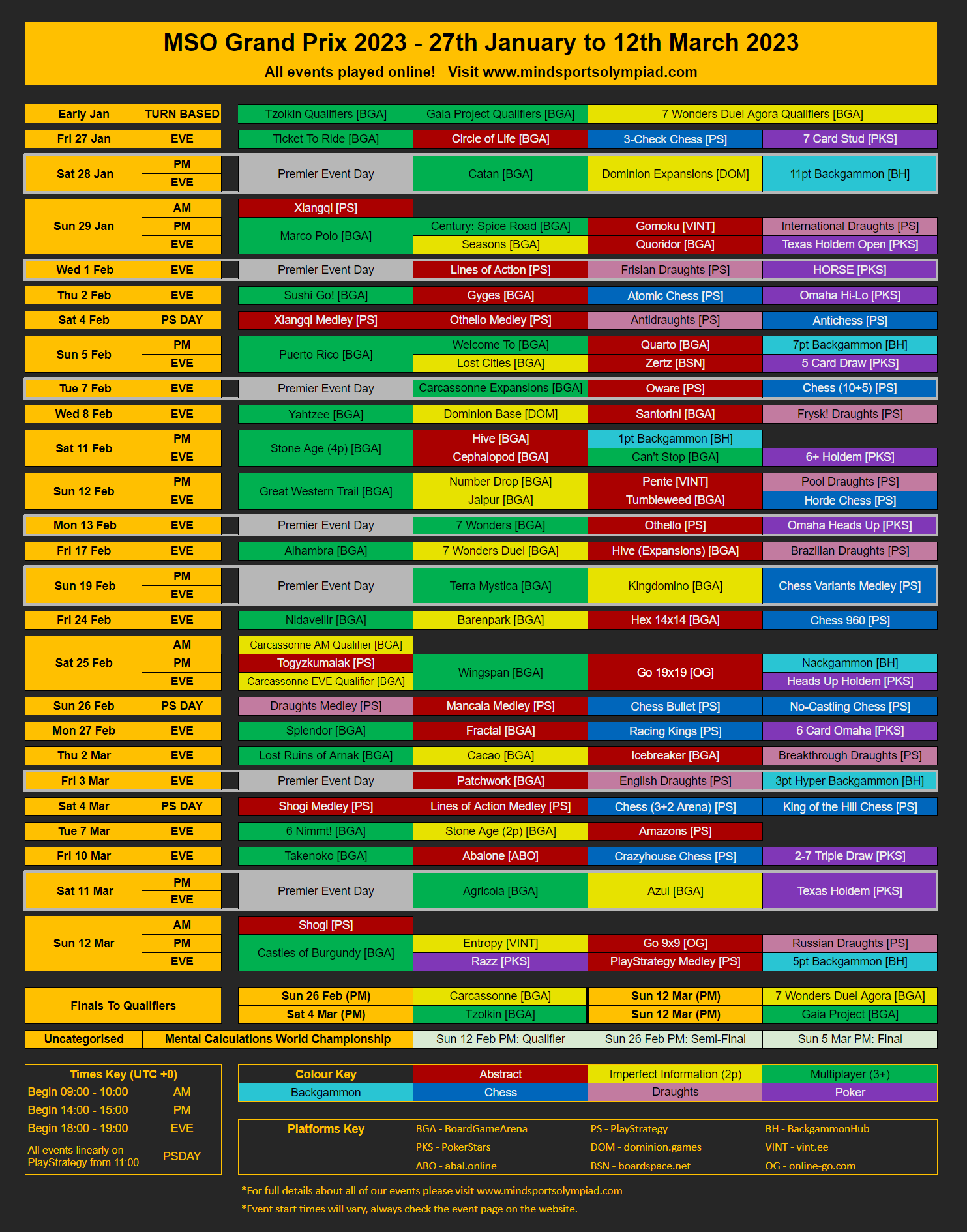 GRAND PRIX 2023
ITALIAN MEDALS
7 Wonders Duel
1 A_little_seed


2 Stefano Teatini


3 joqjoq

Amazons
1 Marino Carpignano 


2 Bernd Radmacher 


3 Florian Jamain 

Backgammon 1pt
1 Florin Popa


2 Antonio Anelli


3 Paolo Arcudi

Backgammon 7pt Nackgammon
1 Antonio Anelli


2 Denis-George Constantin 


3 Florin Popa


3 Iulian Chirita

Backgammon Premier 2
1 Sandu Toader Mihai


2 Cristian Frisk 


3 Pietro Rossi

Cephalopod
1 Maxime Guffroy


2 Maurizio De Leo


3 David Chen 

Chess 10+5 (Swiss)
1 Riccardo Gueci


2 Maciej Brzeski


3 Zoran Kuzmanoski

Chess 960
1 Florin Popa


2 Riccardo Gueci


3 Santiago Bedoya

Chess GP Championship
1 Maciej Brzeski


2 Zoran Kuzmanoski


3 Riccardo Gueci

Chess No-castling
1 Maciej Brzeski


2 Riccardo Gueci


3 Ilya Iyengar
Horde
1 Michael Moore 


2 Zoran Kuzmanoski


3 Riccardo Gueci

Circle of Life
1 Maurizio De Leo


2 Yuki Shibata


3 Stephane Melcer

Draughts Frisian
1 Marino Carpignano


2 Kanstantsin Nord
3 Andrew Cern

Draughts Frysk!
1 Mantas Janavicius


2 Marino Carpignano


3 Martyn Hamer

Draughts Medley
1 Maurizio De Leo


2 Mantas Janavicius


3 Porter Richardson

Fractal
1 Yat Hin, Yorkson Cheung 


2 Maurizio De Leo


3 Stephane Melcer 

Hive (Base Game)
1 Patrick Berggren


2 Dmitry Maximenkov
3 Francesco Salerno

Hive (Expansions)
1 Francesco Salerno 


1 Christian Galeas


3 Dmitry Maximenkov
Lines of Action Medley
1 James Heppell


2 Carman Tang


3 Francesco Salerno 

Lost Cities
1 Maksimilyano96
2 Geoffrey Press


3 Dario De Toffoli

Mancala
1 Pavel Noga


2 Maurizio De Leo


3 David Alatorre López

Number drop
1 Raphael Tse 


2 Sang Soo Yun


3 Pietro Rossi

Othello Medley
1 Daniel Olivares


2 Marc Tastet


3 Pietro Rossi

Patchwork
1 Maurizio De Leo


2 Maciej Brzeski


3 Carman Tang

Poker 2-7 Triple Draw
1 Dario De Toffoli


2 Ben Collister


3 Francesco Ventola

Poker 5 Card Draw
1 Hugo Martins Pereira


2 Marco Conte


3 Dimitrios Kosmopoulos 

Poker 6 Card Omaha
1 Florin Popa


2 Luis Pedro Santos


3 Manfredi Barbaro

Poker 6+ Hold'em
1 Manfredi Barbaro


2 Ben Collister


3 Stefan Schröder 

Poker 7 Card Stud
1 –Chillolini–


2 Khatanbaatar Khandsuren


3 Manfredi Barbaro

Poker Heads Hold'em
1 Riccardo Gueci


2 Stefan Schröder


3 Kazushi Kusano


3 Parker Pulver

Poker Razz
1 Tim Hebbes 


2 Francesco Ventola


3 Dimitrios Kosmopoulos 

Poker Premier 2
1 James Heppell


2 Paolo Arcudi


3 Tim Hebbes 


3 Michael Alishaw

Quarto
1 Yat Hin, Yorkson Cheung


2 Marino Carpignano


3 Fabio Buccoliero

Santorini
1 Fabio Buccoliero


2 Kazushi Kusano


3 Luis Pedro Santos