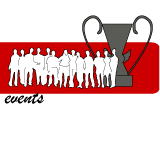 The competitive spirit is in the DNA of studiogiochi.
We handle with games mainly because we like to play and we enjoy to play seriously.
And if it is a race, if there is some good agonism, even better.
But that's not all. We also like to organize competitions, tournaments and leagues.
To think about tournament rules, procedures and the appropriate forms of a competition is for us a way to get into the most intimate mechanisms of a game, to valorise it, to give it more cultural and historical dignity.
We have always done it.
Since the passion of Dario De Toffoli (the founder of studiogiochi) for games has blossomed because of his occasional participation – back in 1981! – to the 1st Italian Championship of Scrabble. And then it never ended. From the organization of Official Championships of classic games such as Monopoly and Risiko!, to the many Tournaments of new games during the multi-ludic events like the Italian Game Festival; from the eclecticism demonstrations as the event Giocatore dell'Anno and the Mind Sports Olympiad to the challanges of logic puzzles.
We have designed, organized, directed, and participated (and often won) in competitions – literally – hundreds of different specialties and mental games.
In this section we tell you some of our experiences.