Monopoly Edizione Serenissima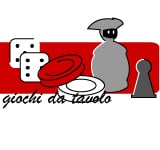 MONOPOLY EDIZIONE SERENISSIMA
The most famous board game in the world is enriched with this edition dedicated to the Serenissima Republic of Venice.
An edition created by Gamevision Italia with the advice of our Leo Colovini.
The game remained exactly the same, but all the elements were converted according to the setting. A particularly stimulating task for Leo because he, in addition to being Venetian, has a degree in history.
A special edition, which reconstructs the cities, the monuments, the fleet of the most powerful of the maritime republics: the game board, which depicts the Adriatic and the Mediterranean, allows you to realize how extensive the dominion over the sea was, and the various squares that make up the Monopoly also explore the dominion over land and cities. The classic Chance and Community Chest cards are replaced by the rulings of the Council of X and the resolutions of the Maggior Consiglio.
What are you waiting for now? Build your empire and amass fortunes, but watch out for taxes, jail and bankruptcy!
Article in Il Gazzettino (1st October 2021)