Enigmistica24 is back in the newsstand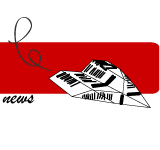 ENIGMISTICA24 IS BACK IN THE NEWSSTAND
Enigmistica 24, the economic and culture games supplement of Il Sole 24 Ore is back in the newsstands. It will be released every alternated Saturday, starting from February 2nd, 2019.
It includes 16 tabloid-shaped pages, holding high quality games for all tastes, made by a vast network of collaborators. Themed crosswords, many schemed word games, but also mathematic games, illustrated games, geographical quizzes, logical schemes of all kinds, the exclusive sudoquiz, board games… and on to the escape room, which is the translationto paper of one of the biggest ludic phenomena of the last years.
In other words, it's the best way to train the mind and enrich the spirit… while having fun.
We are so proud… as this photo of our own "Zack" is well showing!