Tick… Tack… Bumm Family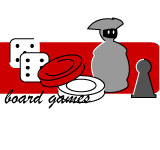 Family edition of the famous game Pass the Bomb, in which studiogiochi provided one of the word challenge mechanism.
Now it's ticking for the whole family! Introducing the new edition of the explosive, fast-paced word and skill game that the entire family can play!
In this fast-paced game, players must solve a word or dexterity challenge before the bomb explodes!
To be successful, players must successfully complete the tasks. The word and dexterity challenges are fun for family members of all ages!
Be entertained by three types of word challenges: Word Acrobat, Typical and Rhyming Artist, in the new addition to the classic "Pass the Bomb" game. This fast-paced Family Edition expands on the ingenuity and dexterity introduced by the Original, Junior and Party versions of the game. With its compact design, "Pass the Bomb FAMILY" is perfect for playing anywhere.
The family edition will challenge even the quickest of thinkers and most skillful of players.
The die determines which of the challenges the 3-8 players must complete each round, demanding spontaneity and creative thinking from each player! Whose nerves will withstand the pressure of the ticking bomb to complete the task in time?
Word Challenges
The focal point of the Pass the Bomb games, the one provided by studiogiochi, lies on the three categories of word challenges, which players of all ages can solve to collect points. The category "Typical" requires players to find a word that is thematically-related to the word on the card. This challenge favours quick thinkers!
The "Word Acrobat" category demands cleverness and an artistic approach to language.
Similarly, the category "Rhyming Artist" also favours poets and thinkers. This is a challenge that guarantees thrills and guffaws of laughter for all players.
Dexterity Challenges
Perhaps the die will deal you a dexterity challenge. Building a worm out of four pieces of the puzzle or catching a ball in a cup both sound simple enough, but watch out! The electronic timer in the form of a bomb is ticking and will explode without warning!
With the threat of explosion, it's no wonder that the approximately 30min playing time goes by so quickly!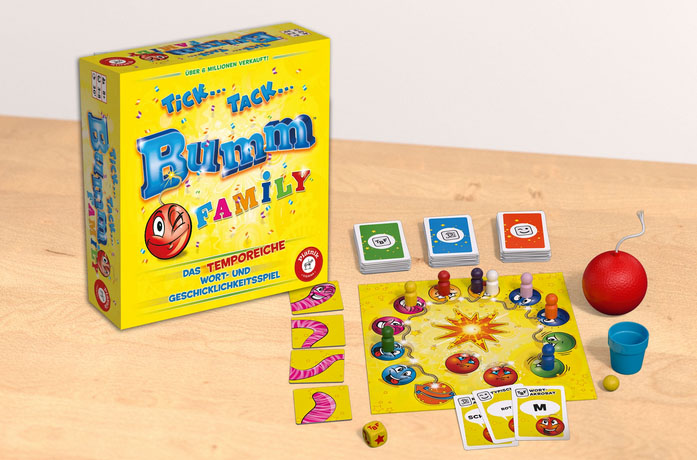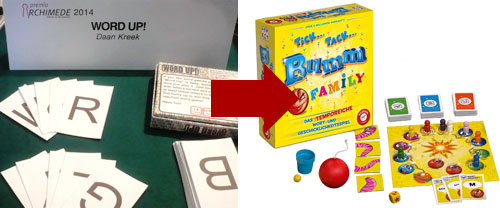 The "Word challenge" included in Tick… Tack… Bumm Family was published thanks to its attendance to Premio Archimede