Cartagena: Die Goldinsel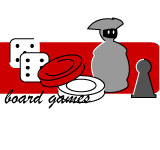 Cartagena: Die Goldinsel is the third game in the Cartagena series, this time designed by Rüdiger Dorn.
After escaping the fortress of Cartagena and their return to the Pirates Nest, the pirates' search for Treasure Island starts. Players are pirate captains and try to get together a new crew of pirates, gather Island cards and acquire digging rights before setting sail to Treasure Island.
Cartagena: Die Goldinsel is a short but tactical game with simple rules.
Linked games: Cartagena (2000), Cartagena 2 (2006), Cartagena App, Cartagena (2014), Cartagena (nuova edizione 2017), Wielka Ucieczka