Scacchi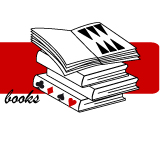 pp. 64 Published together with Stampa Alternativa Supervision and diagrams by Antonio Rosino.
A little book that explains in a complete way and with many examples the rules of chess, to remove all the doubts that a beginner coul have; the book also offers to the reader a first view of the world of chess: history, problems, studies, combinations, classic matches, the tournament rules, and much more.
The appendix contains the rules of two very interesting oriental games: Xiang-qi (Chinese chess) and Shogi (Japanese chess).
It is a posthumous book: a homage to the friend and collaborator Sebastiano Izzo.