Inkognito: Spy Carnival in Venice – App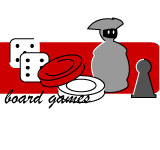 Inkognito: Spy Carnival in Venice – App
The famous board game now playable on the iPad! Play the original 1988 Spiel des Jahres "Beautiful Game" Special Award winner in a great adaptation for iOS.
An elegant deduction game set in Venice, in a romantic age of spies.
As a secret agent you will have to collect clues, use your deduction skills to recognize your friends and confound your foes, and discover the secret mission that will give victory to your team.
Features:
• Official Inkognito game with brand new artworks
• Scrollable game board including zoom option
• Solo play against 3 players
• Detailed turn-by-turn in-game hints
• Game Center Achievements
• Comprehensive in-game manual
• Brand new musical score, sound effects, graphics and animations
Linked games: Inkognito – Mini Inkognito – Inkognito (2001) – Inkognito The Card Game – Inkognito (2013) –  Inkognito (2022)