Inkognito (2022)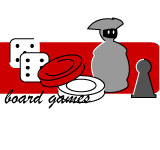 Inkognito is a deduction game for 3 to 5 players set in Venice during the carnival, in a romantic age of spies, microfilms, hot air balloons and fast motorboats.
In the role of a secret agent, or the mysterious Ambassador, you will stealthily prowl the streets in search of top secret information.
While trying to confuse your opponents, you'll have to collect clues and use your deductive skills to recognize and exchange the code with your ally, that will reveal the secret mission to complete to win the game.
Designed by Leo Colovini and Alex Randolph in 1988, Inkognito was immediately successful, so much so that over the years it has been republished several times, with different versions.
In 2022, on the occasion of the centenary of the birth of the author Alex Randolph, this new edition was released with a variant for 5 players, published in three languages: in English by Ares Games, in Italian by Oliphante, in Korean by Ubo.
Linked games: Inkognito – Mini Inkognito – Inkognito (2001) – Inkognito The Card Game – Inkognito (2013) – Inkognito: Spy Carnival in Venice – App
List of editions
2022,


(Korean)