Avanti un altro!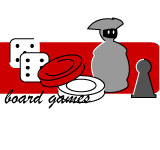 Players: 3-5
Duration: 30 min
Age: 14+
First edition:
Time for another… collaboration between studiogiochi and Ravensburger! This time for the making of the official board game of the Italian TV show Avanti un altro!
The game is by Leo Colovini, while the 2,700 questions have been elaborated by Dario Zaccariotto and his team.
Relive the atmosphere of the TV show with this fun quiz game: accumulate the highest jackpot by answering the questions, test yourself and challenge your friends to become the champion!