Reazione a catena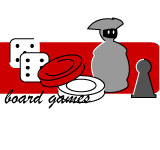 The official game of the famous italian tv show reazione a catena (chain reaction), developed for Ravensburger by studiogiochi, that has fully adapted the mechanism to suit a board game for 4 or more players, in two different teams.
Test your knowledge of italian in funny "mental exercizes" that will thrill everybody!
The match is divided into 6 games, all of them simulating the corresponding game of the tv show.
Hunt the word
The music chain
When, where, how and why
Once one pops one can't stop
The winning understanding
Chain reaction
Who will be able to solve the final challenge and win the highest prize?