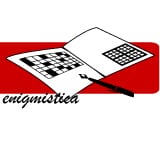 Problem
White moves and wins in three moves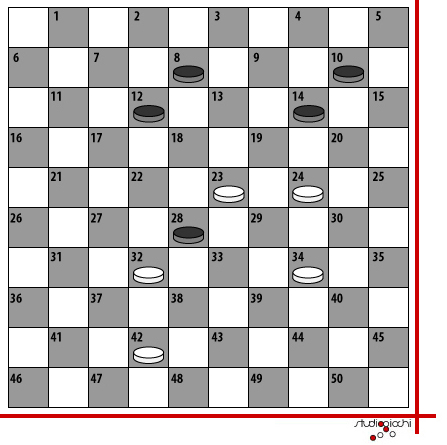 ---
Column
In 2008 the World Team Championship of International Draughts took place in the Riviera del Beigua (Liguria – Italy). The first place was, as predicted, for the Russians that won against Senegal in the final; the other favourite team of the Tournament (Netherlands), lost against the Russian team during the quarter finals. But the six times world champion Harm Wiersma showed the most spectacular combination during the Tournament against Arno Uutma. Take a look at it starting from a position in which it is already evident.
In order to get to the position shown in the figure, white moved 25-20!, forcing black to move 22×42; then white moved 20-14 (gets ready for a king move), and black moves 9×20: in spite of its disadvantage 6 to 9, white moves and wins. How?
Problem
Lanci 1837
White moves and wins in two moves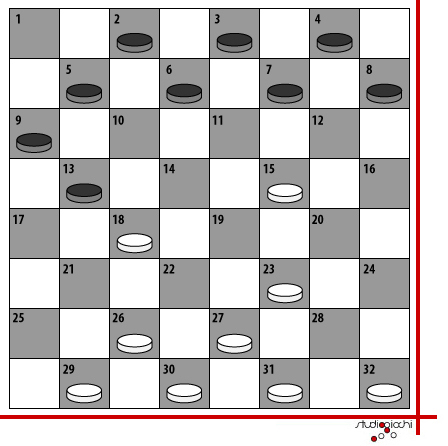 Column
The "Ribattino" is a combination that can easily happen in the middle of a game, when a piece moves forward and land in the middle of the  opponent ones. It is less common during a final with crowned pieces, as shown in the figure. The move of the "Ribattino" begins with an exchange, taking a piece, which opens up the way to make a final double take.
D. Bertè 2008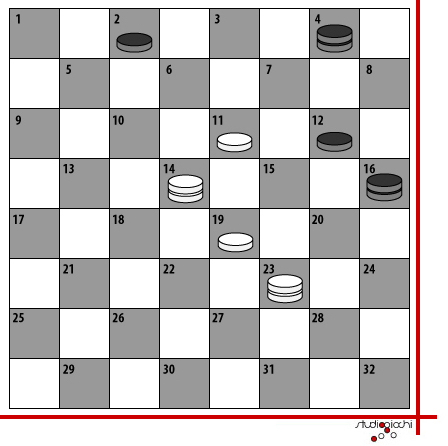 INTERNATIONAL DRAUGHTS
Problem
1. 23-19 28×48;
2. 24-20 48×13;
3. 20×7 and white wins.
Column
1. 36-31 (offering four pieces, apparently a suicide), 26×30;
2. 35×4 (white is king), 23×34;
3. 4x31x48x30x8x26 (the white king gets five definitive pieces).
ITALIAN DRAUGHTS
Problem
1. 15-11 7×21;
2. 26×1 and White wins.

Column
1. 19-15, 12×19;
2. 11-6, 2×11;
3. 14×7, 4×11;
4. 23×7, 16-20;
5. 7-11 … and White wins closing the black king.