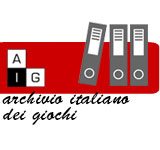 The idea of an Italian Games Archive came to my mind many years ago, at the end of the 80s. Finally today it is possible with the new technologies to realized it and, thanks to the city of Udine that believed in the project, we are doing it. Really. It's like a kind of a miracle!
The creation of an Italian Games Archive is somewhat important and urgent. In France, Austria, Switzerland and in Germany there are since many years similar entities that promote game's culture as a tool that help social inclusion, but also to preserve a cultural heritage that otherwise would be lost.
Game is a metaphor to describe the interaction, so it has pedagogical, social and scientific properties. Promote games and toys has also industial and economic consequences, as realities such as Assogiocattoli shows to us.
The basic idea of the Italian Games Archive project is to create a documentation center to restore, preserve and valorize a heritage that is continuously dispersed. A way to increase our knowledge: culture, not culture's marketing.
With the word "Games" many things can be defined, much different between them. Many items, some beautiful, some less. This project aim to study games in their positive values, both cultural and social.